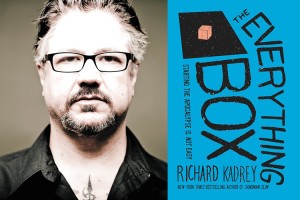 April 29 – 7 pm – Richard Kadrey signs The Everything Box: A Novel – Barnes and Noble, Desert Ridge, Phoenix, AZ
April 30th – Independent Bookstore Day!  Changing Hands details  Poisoned Pen event page
May 4 – 7 pm – Aprilynne Pike signs Earthrise and Amy Tintera signs Ruined.  Changing Hands, Phoenix.
May 5th – 7 pm – Diana Gabaldon, K. C. Dyer at a special event for K. C. Dyer's novel, Finding Fraser, inspired by Diana's Outlander series. The Poisoned Pen in Scottsdale, AZ .  Note that at this special event, only items pre-ordered or bought at the event will be signed. 
May 6 – 7 pm – Lisa McMann signs The Unwanteds: Island of Dragons – Barnes and Noble, Desert Ridge, Phoenix, AZ
Links to stores that have planned events – updates as I get more information. Use www.freecomicbookday.com to find the participating store closest to you.
May 7/8 – Arizona Comic Mini Expo Saturday at Samurai Comics in Mesa and Sunday at Samurai Comics in Phoenix
May 7 – Free Comic Book Day on Main St. in Downtown Mesa, hosted by Gotham Comics Comics and Coffee
May 7 – All About Books and Comics
M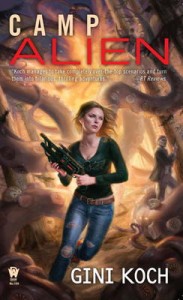 ay 20 – Poisoned Pen SciFi Friday Book Club – 7 pm – This month's selection is Dirty Magic by Jaye Wells
May 23 – 7 pm – Gini Koch signs Camp Alien  Poisoned Pen, Scottsdale, AZ
M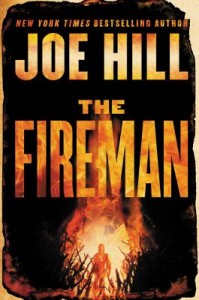 ay 24 – 7 pm – Joe Hill signs The Fireman – Changing Hands, Phoenix – ticket/book purchase required
June 1 – 7 pm – Elevengeddon: A Multi-Author SciFi event hosted by Kevin Hearne – Poisoned Pen, Scottsdale, AZ  The return of an event that last year had eighteen authors appearing and this year it may be even more.  Current lineup includes Kevin Hearne (Host), Brandon Sanderson, Pierce Brown, Beth Cato, Adam Christopher, Ryan Dalton, Leanna Rene Hieber,Jason Hough, Mary Robinette Kowal, Tom Leveen, Michael Martinez, V. E.Schwab, Scott Sigler, Michael J. Sullivan, Sam Sykes, Dan Wells, and Django Wexler.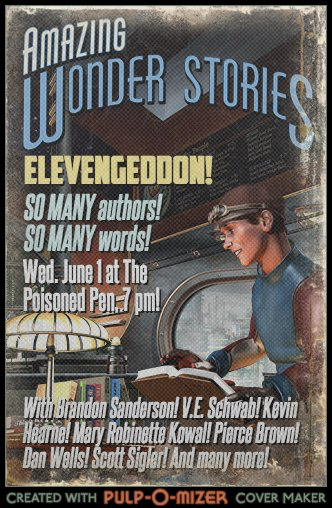 June 7 – 7pm – Justin Cronin signs City of Mirrors – Changing Hands Tempe  See website for ticket/purchase details