News about the Christmas story collection by Connie Willis, being published Oct 10 by Del Rey Books.  Updated with a new podcast interview and upcoming appearances where you can see Connie or order a signed copy.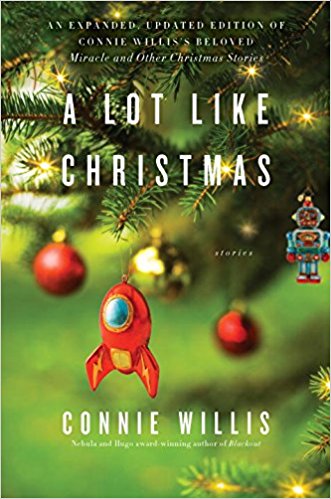 This new, expanded edition of Miracle and Other Christmas Stories features twelve brilliantly reimagined holiday tales, five of which are collected here for the first time.
Christmas comes but once a year, yet the stories in this dazzling collection are fun to read anytime. They put a speculative spin on the holiday, giving fans of acclaimed author Connie Willis a welcome gift and a dozen reasons to be of good cheer.
Brimming with Willis's trademark insights and imagination, these heartwarming tales are full of humor, absurdity, human foibles, tragedy, joy, and hope. They both embrace and send up many of the best Christmas traditions, including the holiday newsletter, Secret Santas, office parties, holiday pageants, and Christmas dinners (both elaborate and spare). There are Rockettes, the best and worst Christmas movies, modern-day Magi, Ghosts of Christmases Past, Present, and Yet to Come—and the triumph of generosity over greed. Like all the timeless classics we return to year after year, these stories affirm our faith in love, magic, and the wonder of the season.
You can read the introduction at the Penguin Random House page for the book
Table of Contents
Introduction
Miracle
All About Emily
Inn
All Seated on the Ground
In Coppelius's Toyshop
Adaption
deck.halls@boughs/holly
Cat's Paw
Now Showing
Newsletter
Epiphany
Just Like the Ones We Used to Know
A Final Word on the Subject
An Advent Calendar of Great Christmas Movies to Watch
And a Score of Christmas Stories and Poems to Read After You've Gone to Bed
Plus a Half Dozen TV Shows You May Not Have Seen That Haven't Succumbed to "Very Special Christmas Episode" Syndrome
======================================
Connie Willis Interviewed on The Week in Geek Podcast.
=========================================
MY SCHEDULE FOR FALL 2017
October 27-29–
MILEHICON
Denver, Colorado
October 27 to 29
(I'll be doing an hour-long presentation on Irony and several panels. I'll be there all three days of the convention.)
Wednesday, November 8
READING FROM A LOT LIKE CHRISTMAS
OLD TOWN LIBRARY
201 Peterson Street
Fort Collins, Colorado
6:00 p.m.
Saturday, November 11
TALK AND READING FROM A LOT LIKE CHRISTMAS
Tattered Cover
2526 E. Colfax Avenue
Denver, Colorado
Saturday, November 18
READING AND SIGNING FROM A LOT LIKE CHRISTMAS
Barnes and Noble
4045 S. College Avenue
Fort Collins, Colorado
Saturday, November 18
TALK AND SIGNING
Broadway Book Mall
200 S. Broadway
Denver, Colorado
Tuesday, November 21
TALK AND SIGNING
Page One Books
5850 Eubank Blvd., Suite B-41
Albuquerque, New Mexico