WEBSITE UPDATE 8/13/2017
BOOKS I LOVE: THE CONNECTICUT CONTINGENT
We went to Connecticut this summer on a combined research and family trip. It's our fiftieth wedding anniversary this year, so my husband and our daughter and I went back to Branford, Connecticut, where we lived when we were first married, to visit our old haunts. We did a lot of other stuff, too, and saw submarines, dinosaur tracks, panes of propped-up glass like the ones in Bob Shaw's "The Light of Other Days," waterfalls, Gillette Castle, and Gilmore Girl-esque village greens (about which more in later posts). And we visited assorted literary haunts, of which there are tons. Authors from Arthur Miller to Maurice Sendak, Wallace Stevens, Rex Stout, Suzanne Collins, and Ira Levin lived there. Here are my favorite Connecticut-connected books:
1. LIFE ON THE MISSISSIPPI by Mark Twain
People always associate Mark Twain with Hannibal, Missouri, and the Mississippi, but he actually wrote most of his novels, including LIFE ON THE MISSISSIPPI, while living in Hartford, Connecticut, in a gaudy red mansion that his biographer called "part steamboat, part medieval fortress, part cuckoo clock."
The house was filled with cats–"A home without a cat–and a well-fed, well-petted and properly revered cat–may be a perfect home, perhaps, but how can it prove title?" he wrote–and little girls, whom he also adored, and he told them stories, watched the plays they put on, was the elephant on their safaris, and let them play with the carved wooden cherubs that formed the posters of their bed, allowing them to put diapers and talcum powder on them.
And somehow find time to write LIFE ON THE MISSISSIPPI. It's a wonderful, funny, rambling memoir that feels less like a book than like sitting on the porch of Mark Twain's Hartford house, watching him smoke his cigars and listening to him talk. The book's got wild tales, jokes, tragic stories, and reminiscences of his days as a steamboat pilot.
My favorite thing in the whole book is his description of how he "learned the river" and went from merely seeing it as beautiful to knowing what every sandbar and sunset and submerged log meant. "Now when I had mastered the language of this water and had come to know every trifling feature that bordered the great river as familiarly as I knew the letters of the alphabet," he wrote, "I had made a valuable acquisition. But I had lost something, too. All the grace, the beauty, the poetry had gone out of the majestic river!"
I've always felt that passage (and the whole book) was as much about being a writer as about being a riverboat pilot, and maybe that's why it's remained my favorite, though I also love ROUGHING IT, THE INNOCENTS ABROAD, and THE PERSONAL REFLECTIONS OF JOAN OF ARC.
And, of course, HUCK FINN. It's one of those "too good to be true" coincidences that the two great classics of American literature about race and slavery, THE ADVENTURES OF HUCKLEBERRY FINN and Harriet Beecher Stowe's UNCLE TOM'S CABIN, were written within shouting distance of each other, and together they changed the way Americans felt about race and slavery.
It's hard to say which book had the greater impact on the subject, though HUCK FINN is clearly the better of the two and it's quite possibly The Great American Novel.. It's also fun to read and as relevant now as the day it was written, and I saw the line "Hain't we got all the fools in town on our side? And ain't that a big enough majority in any town?" quoted on a political website just the other day.
2. UNCLE TOM'S CABIN by Harriet Beecher Stowe
UNCLE TOM'S CABIN isn't nearly as fun to read, and in fact, hardly anybody has. But in spite of that, it's one of those books everybody knows all about–or thinks they do. They're familiar with Eliza's flight across the frozen river with her baby, pursued by the slaveowner and his bloodhounds, and about Topsy and Little Eva. They've seen the play, "The Small House of Uncle Thomas" in THE KING AND I ("Run from Simon, run, Eliza, run!"), and they know that when Abraham Lincoln met the author, he said, "So you're the little woman who wrote the book that started this great war." The terms "Uncle Tom" and "Simon Legree" have entered into the lexicon, and everybody has an opinion about the book, usually that it's badly written, overly sentimental anti-slavery propaganda, and full of demeaning stereotypes. But nobody's actually read it.
Which is too bad, because like most really famous books, it's much different from its common image. And so's the author. Harriet Beecher Stowe wasn't just any "little woman." She was the daughter of a famous preacher and the sister of an even MORE famous one, and her whole family was right in the thick of the abolitionist movement. When Harriet found out that her black servant girl's former owner was looking for her, she, her husband, and her brother hustled the girl to safety, "under cover of night and armed with guns."
She interviewed numerous liberated slaves for the book and asked Frederick Douglass to put her in touch with others so she could "make a picture that shall be graphic and true to nature in its details," and her book presented a number of things that were new to her readers: the barbarity of slave auctions and of families being torn apart as slaves were sold down the river, the forcing of slaves to whip each other, the ruthless hunting down of escaped slaves. She personalized slavery and made its horrors real, and the result was a book that had more influence on events than possibly any other novel ever written.
Just like her book isn't what you've been led to believe, neither is she. She wasn't a humorless fanatic; she was intelligent and charming and funny. She lived right across the street from Mark Twain, and she rose enormously in my regard when I found out she absolutely adored him.
Mark Twain once wrote, "When a man loves cats, I am his friend and comrade, without further introduction," and I feel the same about Mark Twain. Nobody can really call themselves a writer if they don't love Mark Twain and appreciate his humor.
Harriet clearly did. She loved to tell the story of how she was leaving for an extended trip, and Mark Twain, when he found out, came running over to tell her goodbye. He had been at breakfast, so he came in just his shirt and trousers, with no coat, and when he went back home, his wife Olivia, ever the proper Victorian, was horrified. So he sent his butler over with his collar and cuffs on a silver tray with the note, "Here is the rest of me to say goodbye."
The fact that Harriet thought that was hysterical and that she told the story to everyone she knew isn't what you'd expect from the author of a book like UNCLE TOM'S CABIN. And the book isn't what you'd expect either. I recommend reading it and HUCK FINN together. After you've read LIFE ON THE MISSISSIPPI.
NOTE: I suppose I should have picked A CONNECTICUT YANKEE IN KING ARTHUR'S COURT as my favorite Mark Twain book instead of LIFE ON THE MISSISSIPPI, it having Connecticut in the title, but I hate the ending of that book so much I can't bring myself to recommend it. (If you want to read it, I suggest reading to the end of Chapter 39, which is all quite fun, with time travel and eclipses and lightning rods and a very annoyed Merlin, and then stop before Twain's fury at the world makes everything go smash. Especially now, when Twain's ending seems all too likely.)
3. THE BIRTHDAY GIFT by Ursula Curtiss
Next to Mary Stewart, Ursula Curtiss is my favorite romantic suspense writer. Her books are beautifully written and diabolically plotted, and her heroines are smart and resourceful and able to take care of themselves–or would be if they weren't bound by a promise to a friend and if they didn't have a small child to take care of. Or a high fever.
Ursula Curtiss was born and grew up in Westport, Connecticut, and about half of her novels are set there, among them WIDOW'S WEB, THE WASP, THE DEADLY CLIMATE, THE SECOND SICKLE, THE NOONDAY DEVIL, and THE BIRTHDAY GIFT.
Curtiss does a beautiful job of capturing New England's small villages and coast, its idyllic summers and winter snowstorms and deadly (sometimes literally) fogs, and I read her when I'm homesick for New England. But a warning: if you pick up one of her books, make sure you've got some time to read it all the way through. There's no putting it down.
It's hard to pick a favorite–they're all good–but I'd start with THE BIRTHDAY GIFT–about a young woman back from the Southwest to New England for a wedding who's supposed to deliver a gift for a friend in Santa Fe–and then read THE SECOND SICKLE, which also involves a favor for a friend. In this case, the friend's asked her to cover for her being gone for a weekend, and Victoria does, but now the weekend's over, her friend's still not back, and her family and fiancé are demanding to see her…
4. KRISTIN LAVRANSDATTER by Sigrid Undset
Sigrid Undset didn't live in Connecticut, she lived in Norway until World War II, then fled to the States, though still not to Connecticut, (she lived in Brooklyn Heights, New York), and returned to Norway as soon as the war was over. KRISTIN LAVRANSDATTER isn't set in Connecticut either–it's set in Norway long before America was a gleam in anyone's eye.
But I include it here because I first read it in Branford after checking it out (and having to renew it a couple of times) from the Blackstone Public Library, one of my favorite libraries of all time. It was an elegant marble-domed library completely unlike any library I'd ever encountered before, and it imbued all the books I checked out from there with a romance completely separate from the books themselves.
Which was a good thing because the book had a hideous cover with a long-braided Valkyrie-type maiden on it that would have completely daunted me if I'd found it any place else. Plus, it was massive, a fourteen-hundred page tome with tiny print instead of the easier-to-hold three-volume set I later found it in (THE BRIDAL WREATH, THE WIFE OF HUSBABY, and THE CROSS.) But the size and illustration seemed completely appropriate for the Blackstone wrought-iron shelves, and as I've learned through a lifetime of publishing, you should NEVER judge a book by its cover.
Because KRISTIN was wonderful–my favorite novel, in fact. It's the story of the life of a young woman in medieval Norway, which sounds as bad as that Viking-maiden cover, but Kristin's no ordinary daughter. She's headstrong and passionate, and once she meets Erlend, the story turns into a can't-put-it-down tale of forbidden meetings, lies, kidnappings, fights, accusations, imprisonments, estrangements, treason, deaths, and disasters.
All that makes it sound like a mere soap opera, but it's so much more than that. Her characters are wonderfully drawn, Kristin's life is riveting as she struggles with her faith and trying to find meaning in her life, and her world is more real than our own.
That's because Undset was the daughter of an archaeologist who grew up steeped in medieval history and culture and then became an authority on the subject herself, visiting medieval churches and monasteries and studying old Norse manuscripts and chronicles. Her research is impeccable, and her skill at working it into the story is phenomenal. When I wrote DOOMSDAY BOOK, KRISTIN LAVRANSDATTER was my Bible.
And in my mind, impossible to separate from the Blackstone Library. I got to go back and visit this summer and it's (of course) changed a lot from the 1960s, but it still looked like something straight out of THE MUSIC MAN, and it still had the openwork iron spiral staircase up to the stacks, and the ancient open-cage elevator I remembered, and it still had a copy of KRISTIN LAVRANSDATTER, though this one, thank God, had a better cover.
And 5. THE EIGHTH DAY by Thornton Wilder.
No, on second thought, that's such a wonderful book and he's such a wonderful author they deserve a post all to themselves. I'll save them for a future post. After I tell you about my favorite letter of all time.
Connie Willis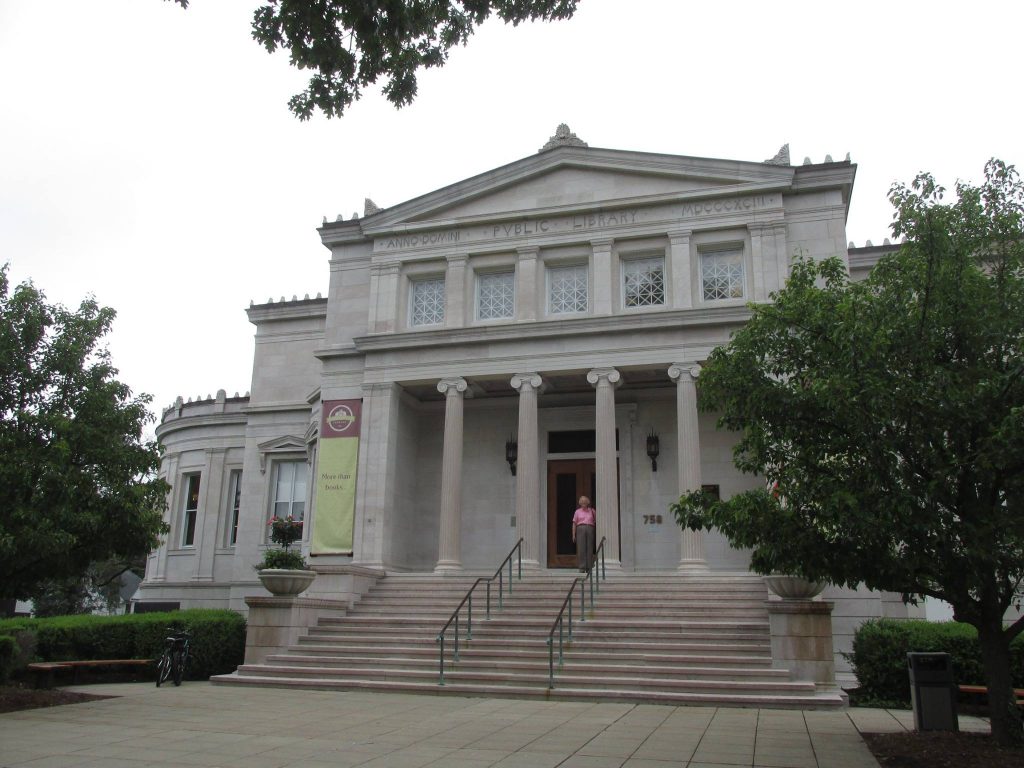 Connie at The Blackstone Library in Brandford, CT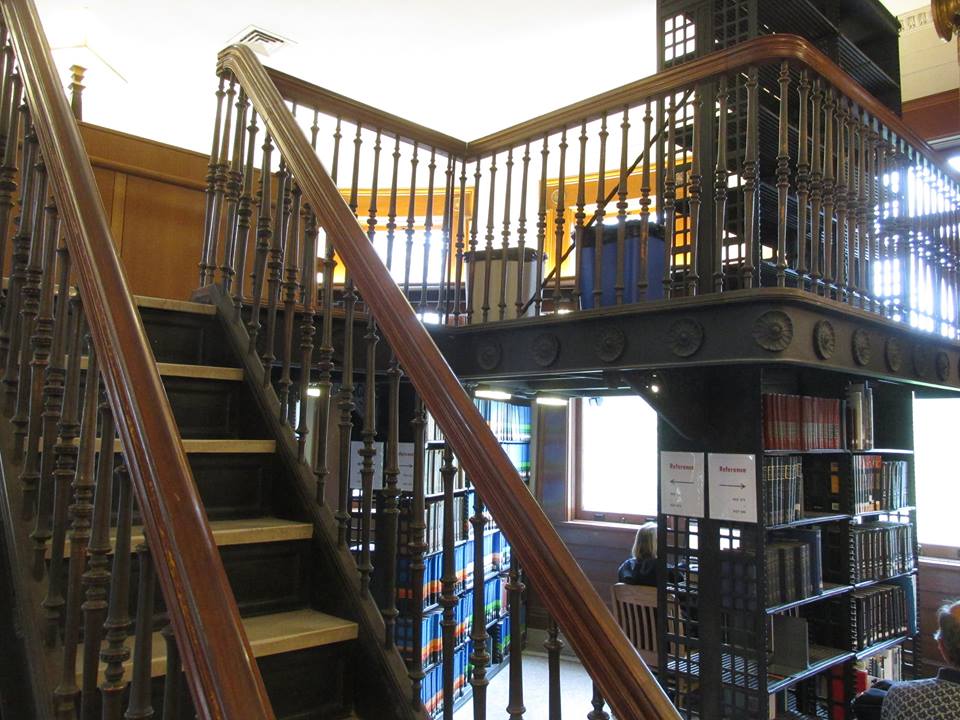 Inside the Blackstone Library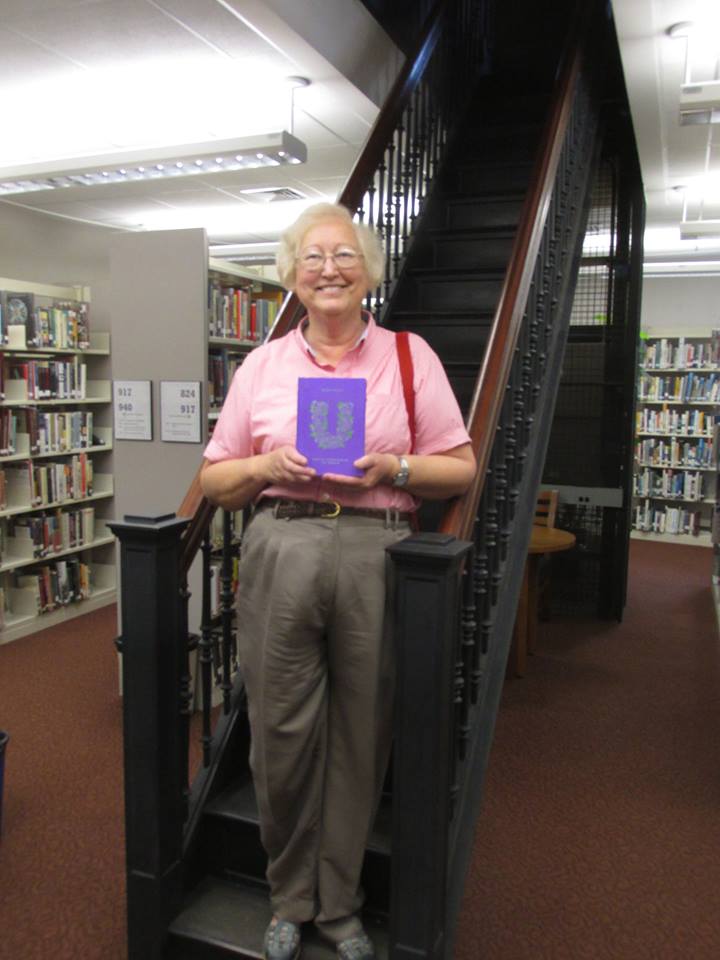 Connie with a copy of KRISTIN LAVRANSDATTER by Sigrid Undset