NOTES FROM THE ZOMBIE APOCALYPSE
or
A REPORT FROM SPOKANE AND THIS YEAR'S WORLDCON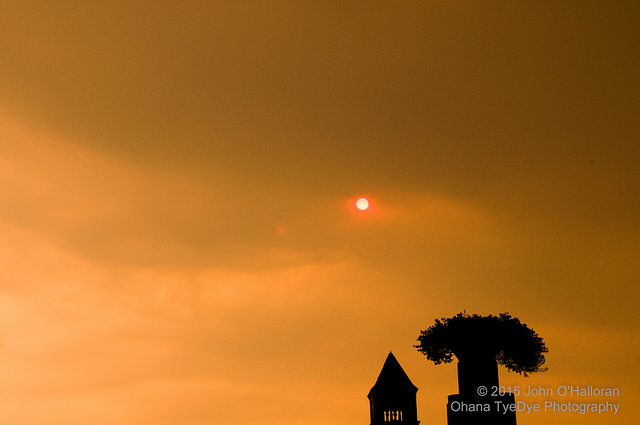 As if there wasn't enough anxiety about Worldcon this year after what Bob Silverberg described as a summer of "apprehension, tension, and dissension," in science fiction, our trip to the World Science Fiction Convention in Spokane got off to a bad start before we even arrived. Lots of people had decided not to come because of the Rabid/Sad Puppies controversy, I was nervous about flying only four weeks after having had eye surgery, and when we arrived, there were no cabs at the airport, and the people in the line we joined said there never would be any.
"We've been here forty-five minutes without seeing one," they reported. A call to the hotel's shuttle number produced a reprimand to the effect that we should have received a place on one when we booked the hotel or earlier (???), and a subsequent call to the number for the taxi service taped to the wall connected us to a semi-hysterical voice saying, "We don't have any cabs! They're all out! You'll just have to wait!"
After many moons, a shuttle from our hotel finally arrived, and we got on, feeling like we were taking the last lifeboat on the Titanic, and looking guiltily back at all the fellow convention-goers we'd left behind. The mood wasn't helped by the shuttle driver, who cheerily pointed out the casino we were passing on the way into Spokane (still several miles away) and saying, "It's got a really fancy gourmet restaurant. Lots of visitors come out here for dinner."
"How?" we asked, but he didn't hear us. He was busy praising Spokane's other fancy gourmet restaurants. "We've got an Applebee's. And a P.F. Chang's." But at least we were on our way to safety.
Or so we thought. But instead of being taken to rescue on the Carpathia–or even the Hyatt–we were transported to a true shipwreck of a hotel.
It was brand-new and ultramodern, but upon closer examination, it was like those strange nightmare hotels in a "we're already dead but don't know it yet" movie. The blinds couldn't be worked manually, and we couldn't find any controls. There was no bathtub. The shower closely resembled the one in a high-school locker room, and there was no door between it and the toilet. (I am not making this up.) The clock had no controls for setting an alarm–a call to the front desk revealed that was intentional: "We prefer our clients to call us and request a wake-up call"–and when you turned the room lights off, the bright blue glow from the clock face enveloped the room in Cherenkhov radiation, and there was no way to unplug it. We tried putting a towel and then a pillow over it and ended up having to turn it face-down.
That wasn't all. If you sat on the edge of the bed or lay too close to the edge, you slid off onto the floor, a phenomenon we got to test later on when we began giving tours of our room to disbelieving friends. "Don't sit on the end of the bed," we told them. "You'll slide off," and then watched them as they did.
We had encountered a mattress like this once before in LaPorte, Indiana, but that was at a fleabag hotel we stayed at because it was the only place with a vacancy. here the slidiness seemed to be a feature, not a bug. There were signs all over our room and the lobby telling us how we could buy a mattress just like it to take home with us. (I am not making this up, I swear.)
Best of all, the driver of the hotel shuttle that took us to dinner (because there still weren't any taxis) assured us we could just call as soon as we were done and they'd pick us up immediately. When we did, he said, "It will be at least an hour," and the maître d' told us our chances of finding a taxi at this hour (9 p.m.) were nil. So we walked.
Through the smoke from the forest fires burning on all sides of the city. It went from hazy on the first day to thick yellow fog full of drifting pieces of white ash on Saturday. The TV news declared a Code Red and advised people to stay inside and take shallow breaths, and the people filming Syfy's Z Nation, a Zombie-Apocalypse TV series which films in Spokane had to put filters on to remove some of the smokiness from their end-of-the-world landscape.
In the meantime, the sun had gone bright orange, the moon had turned to blood, some of the Strolls with the Stars walks had to be cancelled, and the maps showed that the fires were getting closer and closer to Spokane–at which point we started wondering what the eleven thousand people at the con were going to do if we got the call to evacuate–and there was only one taxi in the entire city.
And face it, we were already nervous. The Sad/Rabid Puppies mess had been escalating all summer, with threats from them of dire consequences and organized disruptions if even one "No Award" was given. And one of the Puppies had sent a letter to the Spokane Police Department making false and possibly libelous accusations against David Gerrold (see File 770 for a full account.)
So it was no wonder we approached the night of the Hugo Awards Ceremony with…shall we say? trepidation. Which wasn't helped by the fact that for the first time in my experience of Hugo Awards Ceremonies, we had to go through a security bag check to get into the auditorium.
But none of the disasters the omens had been predicting came to pass (except, of course, that half the state of Washington burned down.) But the Hugo ceremony went off without a hitch. The co-emcees David Gerrold and Tananarive Due were great, everyone there had a great time, and I witnessed something I never thought I'd see in this lifetime: Robert Silverberg leading the audience in a soothing chant of "Hare Krishna."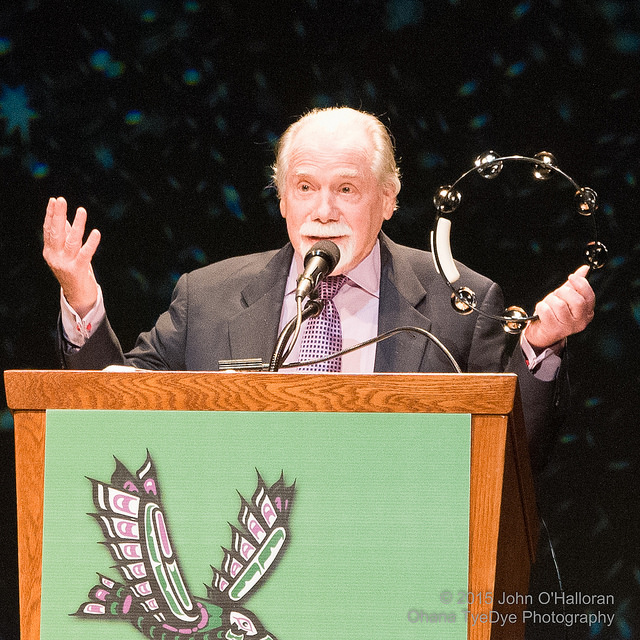 The membership voted overwhelmingly to reject the Puppies' coup attempt and their slate of nominees, giving "No Award" in five categories, and everyone who appeared onstage was terrific, including the people who won. They gave thoughtful, serious acceptance speeches about what the award meant to them and how they felt about what had happened, saying many things that the people charged with running the ceremony couldn't and emphatically voicing their love of science fiction.
As you may know from my previous statement on this website, I had refused to present an award at the Hugos because I didn't want to lend credibility to the hijacking of the award nominations by the Sad/Rabid Puppies.
On the other hand, I very much wanted to support emcee (and old friend) David Gerrold, and when he asked me to come onstage to give him and his co-host Tananarive Due a supportive hug and then do a little schtick about emceeing, or as David said, "go off on a wild tangent", I was more than happy to oblige.
I talked about the trials of emceeing the Hugos and all the things that could go wrong, from reading the wrong name to having the award literally fall apart in your hands, plus all the stuff completely out of your control, like technical glitches, unruly award recipients (you know who you are), and Brazilian mediums.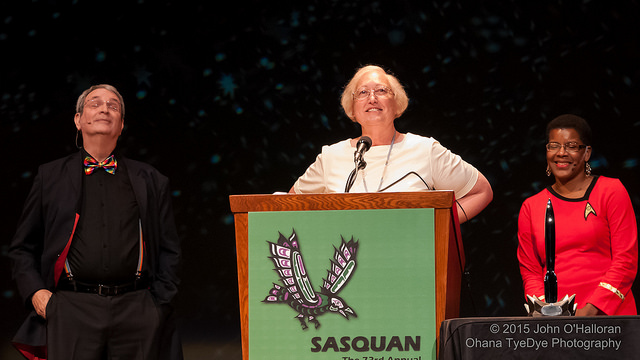 I've posted my speech below, in case you want to read it. I wish I was able to post Robert Silverberg's, which was, as usual, hilarious and delivered in the cool, dry, sophisticated manner nobody can come close to imitating. I also wish I could post the emcees' great riffs on Star Trek, Dr. Who, Game of Thrones ("George R.R. Martin isn't on Twitter anymore because he killed all 140 characters"), and trying to find the right page in their script.
I was really glad I was there, in spite of the smoke and the Kafka Hotel and all the apprehension, tension, and dissension.  [You can watch the entire ceremony here]
This is not to say that I'm not still furious about the whole thing. Because of the Puppies' machinations, people who should have won didn't, people who should have been nominated weren't, people who were felt they had to turn down the nomination, and innocent people were caught in the crossfire. But my greatest fear, that the controversy would tear science fiction apart, didn't come to pass. The community presented a united front and affirmed the tolerance, diversity, and classiness of the field I love.
And Spokane turned out to have some great restaurants, including Anthony's, which has a great view of the falls, yummy fish, and a delicious peach slump (though they might want to work on the name. On second thought, cobbler isn't much better as a name.)
Our favorite, though, has to have been Luigi's, located just a couple of blocks from our hotel. It was an old-time Italian restaurant with wonderful sausage and peppers and an amazing spaghetti mizithra. It was great.
And so was Worldcon. In spite of all the challenges, Spokane put on a great convention. And a great Hugo Awards ceremony.
Oh, and my eye's fine.
Connie Willis
Photos courtesy of John O'Halloran and Scott Edelman