WHY I WON'T BE A PRESENTER AT THE HUGO AWARDS THIS YEAR
by Connie Willis
I've been asked by David Gerrold, this year's Worldcon Guest of Honor and one of the  Hugo Awards emcees, to present the Campbell Award at this year's ceremonies. Ordinarily, I'd be very flattered and would jump at the chance, but this time I'm afraid I'm going to have to tell him no.
I don't want to. I love the Hugos. I can still remember how thrilled I was the first time I was nominated for one. It was the fulfillment of a dream I'd had ever since I was thirteen and had opened up Heinlein's HAVE SPACE SUIT, WILL TRAVEL and fallen into the magical world of science fiction. I was nominated for a short story called "Daisy, in the Sun," and I didn't win–I lost to George R.R. Martin–but just being nominated and being there at the awards ceremony was more than enough, and then on top of that, I got to talk to Robert Silverberg and watch Damon Knight emcee and meet all these famous authors who were my heroes. It was one of the happiest nights of m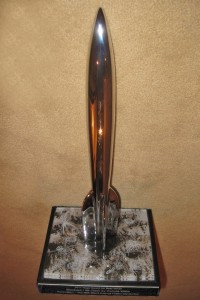 y life.
Since that first time, I've won Hugos, emceed the awards ceremony twice, and presented countless awards. I've handed Hugo Awards for all kinds of fiction to all kinds of authors, told them congratulations, beamed at them as they made their acceptance speeches, hugged them, and helped them down the dark stairs backstage afterwards. I've loved doing it. And I've loved everything else about the Hugos–the anticipation and the nervousness when you're a nominee, the fun of bantering with George R.R. Martin and Mike Resnick and doing comedy routines with Robert Silverberg, the excitement of watching authors and artists you love be awarded for the work they do, and the joy of being in a room with thousands of other people who love science fiction as much as I do. I've adored every minute of it. Till now.
You may or may not have heard of the Hugo crisis currently facing the science-fiction community. (If you haven't, I recommend Susan Grigsby's excellent article on Daily Kos entitled, "Freeping the Hugo Awards.") Basically, what's happened is that a small group of people led by Vox Day/Theodore Beale and Brad Torgerson took advantage of the fact that only a small percentage of Hugo voters nominate works to hijack the ballot. They got members of their group to buy supporting memberships and all vote for a slate of people they decided should be on it. Since everybody else just nominates what they like, and those choices vary quite a bit, nobody else stood a chance, and the ballot consists almost entirely of their slate.
When I heard about this, I was sick at the thought of what they'd done and at all the damage they'd caused–to the nominees who should have made it on the ballot and didn't; to those who'd made it on and would now have to decide whether to stay on the ballot or refuse the nomination; of the innocent nominees who got put on Vox Day's slate without their knowledge and were now unfairly tarred by their association with it; and to the Hugo Awards themselves and their reputation.
But I didn't want to speak out and refuse to be a presenter if there was still a chance to salvage the Hugo Awards ceremony. I wanted to do it if I could for the sake of the nominees who were on the ballot honestly and for the sake of the people putting on the Worldcon. And for the poor emcees who had the terrible luck to be chosen to host the awards this year and have watched what should have been one of the highlights of their careers turn into a nightmare. David Gerrold is an old and dear friend. The last thing I wanted to do was let him down. Plus, I've generally found that wading in to controversies with your two cents' worth (even if you're personally involved and were onstage when they happened) only tends to make things worse, not better.
But then Vox Day and his followers made it impossible for me to remain silent , keep calm, and carry on. Not content with just using dirty tricks to get on the ballot, they're now demanding they win, too, or they'll destroy the Hugos altogether. When a commenter on File 770 suggested people fight back by voting for "No Award," Vox Day wrote: "If No Award takes a fiction category, you will likely never see another award given in that category again. The sword cuts both ways, Lois. We are prepared for all eventualities."
I assume that means they intend to use the same bloc-voting technique to block anyone but their nominees from winning in future years. Or, in other words, "If you ever want to see your precious award again, do exactly as I say." It's a threat, pure and simple. Everyone who votes has been ordered (under the threat of violence being done to something we love) to let their stories–stories which got on the ballot dishonestly–win.
In my own particular case, I feel I've also been ordered to go along with them and act as if this were an ordinary Hugo Awards ceremony. I've essentially been told to engage in some light-hearted banter with the nominees, give one of them the award, and by my presence–and my silence–lend cover and credibility to winners who got the award through bullying and extortion.
Well, I won't do it. I can't do it. If I did, I'd be collaborating with them in their scheme.
So to David, I have to say, with genuine regret, "I am really sorry I have to turn down your kind invitation." And to the people running Worldcon, "I'm sorry I can't present at the Hugo Awards ceremony, but I'll definitely be attending the convention, and I'm supporting you all the way."
To everybody else caught up in this mess, I want to say, "I totally respect whatever you've decided you have to do–to remove yourself from the ballot or stay on, to vote for 'No Award' or not, to participate in the ceremony or not, to boycott the Hugos or Worldcon or attend them. I know how hard it was for me to make my own decision, and I have no intention of second-guessing anyone else's."
And finally, to Vox Day, Brad Torgeson, and their followers, I have this to say:
"You may have been able to cheat your way onto the ballot. (And don't talk to me about how this isn't against the rules–doing anything except nominating the works you personally liked best is cheating in my book.) You may even be able to bully and intimidate people into voting for you. But you can't make me hand you the Hugo and say "Congratulations," just as if you'd actually won it. And you can't make me appear onstage and tell jokes and act like this year's Hugo ceremony is business as usual and what you've done is okay. I'm not going to help you get away with this. I love the Hugo Awards too much."
Connie Willis
April 14, 2015
[Webmaster Note – This blog is not set up for comments.  If someone wants to set up a public location for comments, let me know and I will add a link. Feel free to post this in full elsewhere with a link back here.   You can find additional information on George R. R. Martin's Not a Blog]